Adventive's totally redesigned Campaign Manager makes creating and managing your campaigns even easier, including multi-site campaigns.
While most campaigns might have a single site and a single placement, advanced campaigns can include multiple sites and hundreds of placements. To allow our users with complex media buys to manage trafficking workflow efficiently, the update introduces Sites and Placements.
The Campaign page contains two tabs – Sites + Placements and Delivery Groups.
Sites + Placements
Sites are the web properties where you'll run your ads. A Placement is the section of the site where your ad will appear.
Delivery Groups
Delivery Groups allow you to traffic multiple creatives with a single ad tag. Groups also allow you to set creative rotations for your ad units. Creative Rotation allows you to determine how the ads in your creative group will be delivered. Choose from even/AB testing, click-optimized, engagement-optimized and now weighted rotations.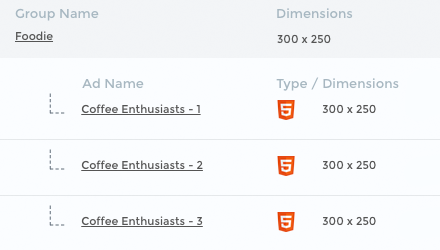 While extremely comprehensive, the new Campaign Manager is easy to use. Just like everything we build here at Adventive. To learn more or see it in action, get in touch.